State Representative
Juan Candelaria
Proudly Serving New Haven
Photo Archive
REP. JUAN CANDELARIA WELCOMES VARIOUS SMALL BUSINESSES TO NEW HAVEN
Rep. Juan Candelaria joined the Spanish American Merchants Association, Inc. (SAMA), Mayor Toni Harp, local officials and friends for a ribbon cutting ceremony in New Haven and the welcoming of various small businesses to the New Haven area. "It is encouraging to see this group of motivated entrepreneurs investing in our community. I wish them a prosperous and successful business venture and I ask our neighbors to help us spread the word among family and friends to come support these businesses. Let's welcome Laudano Building & Remodeling, Inc., Shamsan Deli & Grocery, Inc., Botanica Chango, LLC., Sharp Ones Barbershop, El Xicohtencatl Spanish American Grocery, LLC., Durango Insurance Agency, Santa Maria Bakery, LLC and Grand Medical, LLC."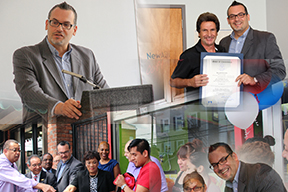 REP. CANDELARIA: SMALL BUSINESSES ARE BOOMING IN NEW HAVEN
Small local businesses keep booming in New Haven! Rep. Juan Candelaria spent time with the owners of Panaderia y Reposteria Pan Del Cielo #2 as they touted the beginning of the distribution of their products at Shop Rite and Price Rite. The Latino/specialty bakery has been selling their product locally and distributing to C-Town for over a year, but adding more stores to their client roster means more diversity and steady growth. "I congratulate our friends at Pan del Cielo for all their efforts and commitment to baking the delicious 'pan sobao' that we all love and for working tirelessly to make their store stronger each day," Candelaria said.
REP. JUAN CANDELARIA ACCEPTS CENTER FOR LATINO PROGRESS AWARD
I am honored to have been recognized and presented with an award from our friends at the Center for Latino Progress for our work and commitment on behalf of the many English language learners across the state. We celebrated our legislative successes along with Speaker of the House Brendan Sharkey and Kelvin Roldan of Hartford's Public Schools who were recognized as well. VIDEO
REP. JUAN CANDELARIA SUPPORTS LEGISLATION TO INCREASE POLICE TRAINING
Rep. Juan Candelaria, former Chair of the Black and Puerto Rican caucus, joined other members of the group at a press conference at the State Capitol, in support of legislation to increase police training and address recruitment issues to ensure the hiring of more officers who live in the communities in which they serve. The legislation also requires the appointment of special prosecutors in cases where there is a death that involves an officer and the use of physical force. The measure will be included as an amendment to Senate Bill 1109, An Act Concerning Excessive Use of Force. $15 million will be included in a future state bonding package to pay for acquisition of body cameras.