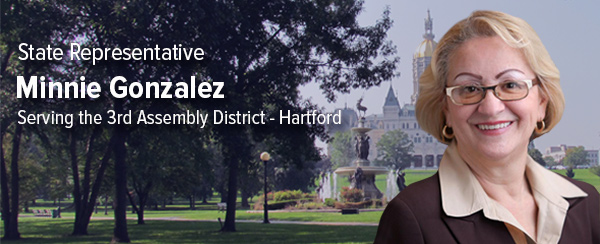 May 6, 1999
State Representative Minnie Gonzalez (D-Hartford) has joined the rest of the Hartford legislative delegation in calling on the state to continue its investment in Hartford's revitalization in the wake of the collapse of the Patriots deal.
"It's unfortunate that the deal to bring the Patriots to Hartford has fallen through," Rep. Gonzalez said. "But we must not let that get us down. We need to continue building on the enthusiasm for Adriaen's Landing and for the redevelopment of Hartford's 14 neighborhoods."
Rep. Gonzalez supports a plan that would reauthorize the $100 million in state surplus funds that were slated for the Patriots stadium to be used instead for urban redevelopment. The Hartford 2000 group has developed plans over the past two years to restore Hartford's neighborhoods. The money would go towards housing development, commercial streetscapes and neighborhood infrastructure.
"I would also like to see the state authorize $5.9 million for the development of programs at the city's neighborhood youth centers and the continued funding and expansion of after school programs," Rep. Gonzalez said.
Gonzalez said she would like to see funds authorized for the South Hartford Greenburg Plan, North Hartford Initiatives, Downtown Greenburg Plan and Farmington Avenue Corridor plans as well.
"We're making progress in Hartford as is evident by a number of neighborhood projects in my district," Rep. Gonzalez said. "We must seize this opportunity to move forward instead of backward in the wake of the Patriots deal. Progress has already been made with the expansion of the Bushnell and Main Library. Now we must turn our sights to the neighborhoods."
Rep. Gonzalez serves the Frog Hollow, Parkview Avenue, Charter Oak Terrace and Behind the Rocks sections of Hartford in the General Assembly.
---
Legislative Office Building, Room 4031
Hartford, CT 06106-1591
(860) 240-8585 | 1-800-842-8267
Minnie.Gonzalez@cga.ct.gov