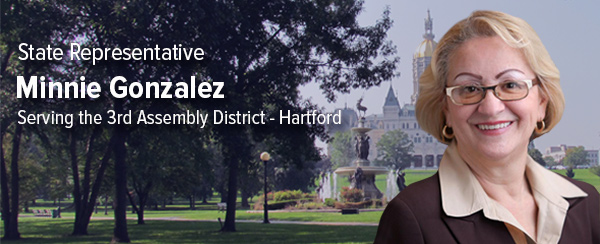 May 18, 1999
State Representative Minnie Gonzalez (D-Hartford) says she is disappointed that the State House today voted against legislation that would have required insurance companies to eliminate their territorial rating systems in the state. The new rating system would have been based on a driver's record, not where they live. Rep. voted in favor of the bill because she says she and her constituents are victims of the current territorial rating system.
"We city dwellers pay almost 50% more for car insurance than those who live in other parts of the state," Rep. Gonzalez said. "Currently, a driver from Avon with a number of accidents on their record still pays less than a Hartford driver with a clean record. I wish the House had taken action today to correct this disparity."
Rep. Gonzalez has supported a number of bills that would change the current rating system during two terms as state representative. She says the new rating system would not have only been fairer to city residents, but would have also helped revitalize the state's cities.
"We talk of rebuilding Hartford yet we're forcing Hartford residents to pay exorbitant amounts for auto insurance," Rep. Gonzalez said. "This is not only unfair, but it is also acting as an incentive to people to move out of Hartford to towns where their insurance costs will be less."
Rep. Gonzalez serves the Frog Hollow, Parkview Avenue, Charter Oak Terrace and Behind the Rocks sections of Hartford in the General Assembly.
---
Legislative Office Building, Room 4031
Hartford, CT 06106-1591
(860) 240-8585 | 1-800-842-8267
Minnie.Gonzalez@cga.ct.gov