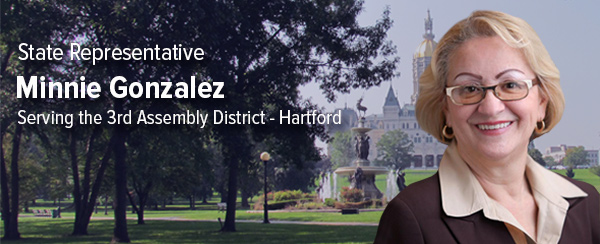 May 2, 2001
REP. GONZALEZ STRONGLY SUPPORTS
VOTER RESTORATION RIGHTS FOR PROBATIONERS
Says probationers should be notified via letter by the Department of Corrections
State Representative Minnie Gonzalez (D-Hartford) announced today her strong support of the voter restoration rights bill, proposed by Rep. Kenneth Green (D-Hartford), which was recently passed by the full legislature on April 25, 2001. She proposed that all probationers be notified by a letter from the Department of Corrections to inform them of their right to vote in the next election.
"It is important that we (legislators) take the responsibility of informing the probationers that the law has changed and they can now legally vote," said Gonzalez. "Many of them may not be aware of the change that has taken place."
Passing this bill would allow approximately 36,000 individuals who are living in their communities the right to vote. The bill received support from a bipartisan group who accepted the argument that ex-offenders should have an opportunity to function as good citizens in society.
The bill will soon go to the Governor for signature.
---
Legislative Office Building, Room 4031
Hartford, CT 06106-1591
(860) 240-8585 | 1-800-842-8267
Minnie.Gonzalez@cga.ct.gov