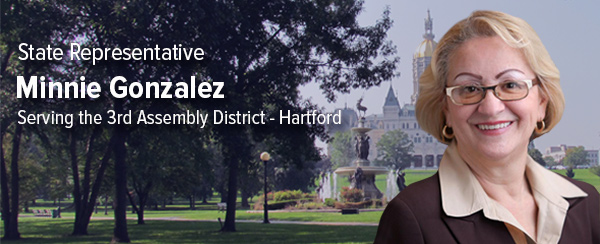 May 8, 2002
State Representative Minnie Gonzalez (D-Hartford) announced today sHB 5575: An Act Concerning Displaced Workers which will entities that take over contracts to provide certain services at Bradley International Airport to retain their predecessors' employees for at least 90 days. It imposes responsibilities on the authority that initially awards the contract, the original contractor, and successor contractors.
"It is important that I protect these workers from being unemployed once a new contractor takes over," said Rep. Gonzalez. "Many of those employees are minorities and it is my duty as a state representative to keep them from being displaced."
The awarding authority will give advance notice to a contractor and the exclusive bargaining representative of any of the contractor's employees, of the termination of such service contract and shall provide the contractor and the exclusive bargaining representative with the name, telephone, and address of the successor contractor or contractors.
Rep. Gonzalez also states, "Many times new contractors come in only to fire the current employees and hire new ones. Well, I want to prevent this from happening at Bradley Airport because they have worked there for many years and should have an opportunity to retain employment."
---
Legislative Office Building, Room 4031
Hartford, CT 06106-1591
(860) 240-8585 | 1-800-842-8267
Minnie.Gonzalez@cga.ct.gov