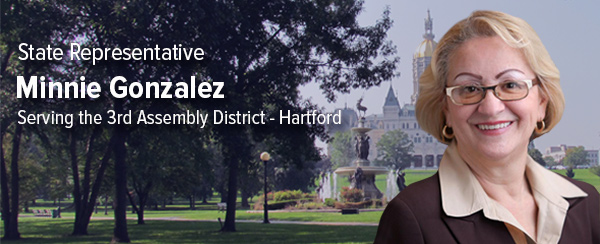 May 12, 2003
State Representative Minnie Gonzalez (D-Hartford) announces recent passage by the full legislature of House Bill 6359: An Act Concerning Out-of-State Cosmeticians. This legislation was signed into law on May 12, 2003. The bill authorizes the Department of Public Health (DPH) to grant a license without examination to a person licensed as a hairdresser or cosmetician in a commonwealth of the United States with an equivalent or higher licensure requirements. The commonwealth must similarly endorse hairdressers/cosmeticians licensed in Connecticut.
"My intent for this bill was to create a reciprocal agreement with Puerto Rico for cosmetologist licensing purposes," said Rep. Gonzalez. "Puerto Rico has licensing requirements comparable to Connecticut and I believe that cosmeticians from that area have the skills necessary for licensing in Connecticut."
Rep. Gonzalez has been working with the Honorable Senator Roberto Vigoreaux Lorenzana of Puerto Rico to accomplish the necessary changes to finalize a reciprocal agreement with Connecticut.
---
Legislative Office Building, Room 4031
Hartford, CT 06106-1591
(860) 240-8585 | 1-800-842-8267
Minnie.Gonzalez@cga.ct.gov