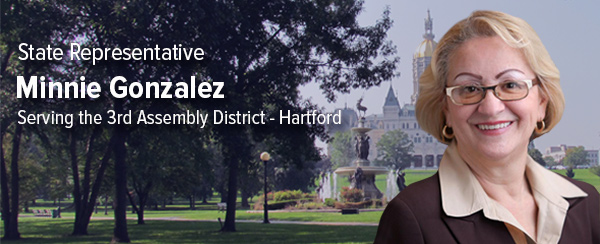 July 13, 2004
REP. GONZALEZ ACQUIRES BLOCK GRANT FOR HARTFORD
Says grant will aid in providing decent housing for low income families
State Representative Minnie Gonzalez (D-Hartford), Assistant Majority Leader, announces a Community Development Block Grant in the amount of $4.6 million for the City of Hartford. The purpose of this grant is to develop viable urban communities by providing decent housing, a suitable living environment, and to expand economic opportunities for low and moderate-income families.
"I am pleased that Hartford has received these much needed funds," said Rep. Gonzalez. "Hartford is in dire need of decent living conditions and I hope that with these funds we can create a better living environment for its residents."
Small cities are eligible to apply for funding through Connecticut's Department of Economic and Community Development (DECD). Funding is awarded on a first-come first-serve basis.
Rep. Gonzales states, "It is important that we create suitable living conditions for Hartford's residents. As a state legislator, I will do whatever it takes to assist in developing our community for the safety of the people."
Rep. Gonzalez is serving her fourth term in the Connecticut General Assembly. Currently, she is a member of the Appropriations, Commerce and Public Safety Committees.
---
Legislative Office Building, Room 4031
Hartford, CT 06106-1591
(860) 240-8585 | 1-800-842-8267
Minnie.Gonzalez@cga.ct.gov