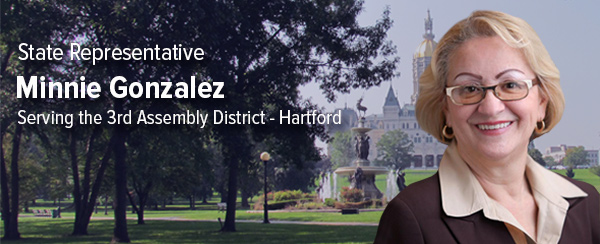 July 18, 2005
State Representative Minnie Gonzalez (D-3rd District) celebrated the passage of a bill that she originally introduced two years ago that will make it easier for electricians who are currently licensed in other states, or commonwealths or territories of the United States, to get licensed in Connecticut.
With this new law in place, the Commissioner of Consumer Protection may adopt regulations to grant a license with the proper fee, and without an examination to any currently practicing electrician who holds a license in any other state or U.S. territory that has similar licensing requirements to that of Connecticut.
Begun as a law to assist practicing electricians, it later included plumbers; heating, piping and cooling contractors and journeymen; elevator contractors and craftsmen; solar contractors and journeymen; fire protection sprinkler contractors and journeymen; irrigation contractors and journeymen; sheet metal contractors and journeymen; and automotive and flat glass contractors and journeymen.
Rep. Gonzalez said, "This law is particularly important for those tradesmen and women that find it necessary to relocate in or out of another state with a reciprocal agreement."
This bill was signed by the Governor and will be in effect as of October 1, 2005.
Rep. Gonzalez is Chair of the Black and Latino Caucus, and member of the Appropriations; Judiciary; and Public Safety and Security Committees.
---
La representante estatal Minnie González (Demócrata Distrito-3) celebró una nueva ley que facilitará a electricistas con licencia en otros estados o en territorio estadounidense a adquirir su licencia en el estado, ley que ella impulsó hace dos años.
Con esta nueva ley el Comisionado de Protección al Consumidor puede otorgar licencias a electricistas que tienen las mismas en otros estados, luego de pagar un honorario, sin necesidad de examen.
Esta ley comenzó para ayudar a electricistas, pero luego incluyó a contratistas y obreros de plomería, cañería, calefacción y refrigeración. También a los contratistas de ascensores, a los contratistas solares y a los contratistas de protección contra incendios, a contratistas de irrigación y a contratistas de cristales y metales.
La Representante González dijo, "esta ley es de gran importancia para mujeres y jornaleros que se ven en la obligación de mudarse de su país natal, o de un estado a otro que tenga leyes similares para integrarse con facilidad al sistema laboral".
Este proyecto de ley fue firmado por la Gobernadora y entrará en vigor el 1ro de octubre del año en curso.
La Representante González preside el caucus Afro-Americano y Latino, y es miembro del Comité de Apropiación; Judicial y Seguridad Pública.
---
Legislative Office Building, Room 4031
Hartford, CT 06106-1591
(860) 240-8585 | 1-800-842-8267
Minnie.Gonzalez@cga.ct.gov