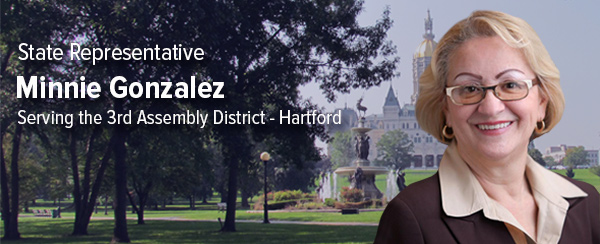 August 4, 2005
Hartford, CT - State Representative Minnie Gonzalez (D-3rd District), announced today the approval of one million dollars in funds for the refurbishment of Pope Park as part of the state's bond package, which also allocated several millions more to help improve capital projects and new construction throughout the state.
These funds will support the efforts begun a number of years ago, to allocate funding to Pope Park for the installation and operation of lights and the addition of an electronic scoreboard for the little league field.
"This project will continue to send the message that our youths and area residents count and are being represented. The overall beautification and the increasing of access to Pope Park can continue in earnest," Representative Gonzalez said.
The Pope family deeded Pope Park to the City of Hartford in 1895 and designated the land for park use only. The Park has athletic fields, a recreation center and various other amenities that are utilized by area communities. However, the park has seen a gradual decline in the last fifty years and legislators are supporting the restoration and preservation of this important neighborhood resource.
"Supporting this century-old park is integral to improving the overall quality of life in the community," continued Representative Gonzalez. "To ignore this historic park is to do a disservice to our city and area citizens," she concluded.
---
Legislative Office Building, Room 4031
Hartford, CT 06106-1591
(860) 240-8585 | 1-800-842-8267
Minnie.Gonzalez@cga.ct.gov