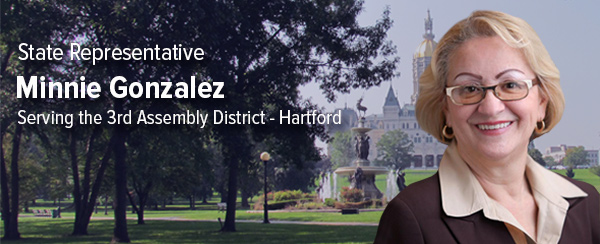 July 13, 2007
State Representative Minnie Gonzalez (D – Hartford) today expressed her appreciation to the Supreme Court Justice Richard N. Palmer and the Judicial Selection Commission for being instrumental in the appointment of Gail P. Hardy as the state's first African American state's attorney.
Hon. Palmer came to the Legislative Office Building on August 23, 2006, to meet with Rep. Gonzalez and the Black & Latino Caucus, where they discussed many concerns and issues that affect minority communities. Rep. Gonzalez served as Chairwoman of the Caucus at that time.
Rep. Gonzalez also met with leaders in the North and South ends of Hartford and Chief State's Attorney Kevin Kane and expressed the same concerns. An understanding was reached that efforts needed to be made to improve the judicial system and to appoint people in the system that will understand and identify with minority issues.
"This is an historic appointment and Ms. Hardy will be a strong addition to the division of criminal justice senior management team. Because of her experience working in criminal justice for 23 years, she brings a clear understanding to the problems facing our minority communities today," Rep. Gonzalez said.
Representative Minnie Gonzalez represents Hartford's third district and is currently serving her 6th term. She serves on the Appropriations, Judiciary and Public Safety Committees.
---
Legislative Office Building, Room 4031
Hartford, CT 06106-1591
(860) 240-8585 | 1-800-842-8267
Minnie.Gonzalez@cga.ct.gov