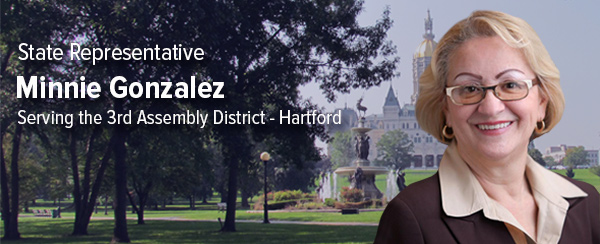 April 2, 2008
REP. GONZALEZ: RESIDENTS MUST FILE
A FEDERAL TAX RETURN TO RECEIVE STIMULUS PAYMENTS
Help being offered to senior citizens to fill out the proper forms
Rep. Minnie Gonzalez (D-Hartford) reminded residents that they must file a 2007 tax return with the Internal Revenue Service (IRS) to receive the federal economic stimulus payments of up to $600 (or more for joint filers).
"Even if you don't usually file a tax return, you must file this year in order to receive the stimulus check," Rep. Gonzalez said. "The IRS won't send out your check if you don't file a return. I am urging all of my constituents to file, and file early."
"My office has become aware that there are some unscrupulous people charging senior citizens for help filling out the proper forms," Rep. Gonzalez added. "Free help is available to seniors to fill out their forms and they may contact my office for further information," Rep. Gonzalez said
All taxpayers with qualifying income of at least $3,000 in 2007 are eligible for the stimulus payment. This includes low-income workers and recipients of Social Security and veterans' benefits who may not usually file a tax return.
Please contact Rep. Gonzalez at (860) 236-9654 for further information.
---
Legislative Office Building, Room 4031
Hartford, CT 06106-1591
(860) 240-8585 | 1-800-842-8267
Minnie.Gonzalez@cga.ct.gov