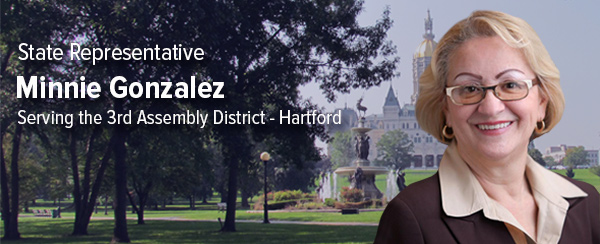 April 28, 2008
Connecticut's Legislative Black and Latino Caucus held a press conference today to express dissatisfaction with the candidates appointed to be judges in Connecticut's courts.
The Judicial Selection Commission, comprised of appointees from various leadership positions, seeks and recommends to the governor qualified individuals for nomination as judges. The governor must choose a candidate from the approved list. The governor then refers his or her nominees to the General Assembly's Judiciary Committee for confirmation after a public hearing. The legislature must approve the nominees.
"Not a single Latino currently sits on the Judicial Selection Commission and only a few Latinos have served since it was formed in 1986," Rep. Minnie Gonzalez said. "This commission, over half the members of which are appointed by the governor, debates, deliberates and votes in secret and is not held accountable to the people in the same way that we, as legislators, are held accountable."
Since 2005, over 30 newly appointed judges have been submitted for confirmation by Governor M. Jodi Rell, but only two, or less than 7%, are of African-American or Latino descent. The caucus feels that there needs to be a more aggressive campaign to recruit minority candidates to become judges in the state of Connecticut. These concerns have also been expressed by the Connecticut Minority Supplier Development Council and the NAACP.
"There currently exist 196 judges - 15 African American and 5 Latinos. Given so many youths that have to go through the judicial process and so many families affected, the community has been calling out for a judicial system that reflects, relates and can respond to the people it serves," Rep. Gonzalez added. "A disturbing example is the fact that there is no Latino representation in family court."
Rep. Gonzalez added, "In speaking to Latino attorneys, I have learned the system has never helped Latinos with the application process. Most appallingly, when I asked for a statistical list of applicants, Latino/Hispanic is not one of the ethnicities listed. Therefore, we are not even recognized in the statistical analysis of applicants. There is no way to determine from that information how many Latino/as have applied over the years. That has got to change."
"It is in the interest of our state to maintain and improve the racial composition throughout all branches of government," said Rep. Don Clemons. "No one should feel that they are only pawns in a game of chess. We need to look into recruitment, mentoring, and ensuring that our talented pool of minorities has every opportunity to attain their goals in the state of Connecticut."
According to recent statistics from the American Bar Association, there are only seventeen African Americans and five Latino judges in the state of Connecticut.
 "It is imperative that our judicial system represent an array of individuals from various life experiences, conditions, and environments," said Rep. Kenneth Green. "Therefore, we are calling on Gov. Rell to hold a meeting with the caucus to ensure that diversity is reflected in our judgeships."
"We must do better," said Senator Eric Coleman. "The members of the Black and Latino Caucus stand ready to assist in identifying and encouraging individuals of African American and Latino descent to apply and become successful judges in the state of Connecticut."
The Legislative Black and Latino Caucus and the NAACP have written letters to the governor expressing their concerns on this issue. They have requested a meeting with Governor Rell to "discuss meeting the goal of nominating qualified candidates to the judicial branch that also represents the demographics of the state of Connecticut."
---
Legislative Office Building, Room 4031
Hartford, CT 06106-1591
(860) 240-8585 | 1-800-842-8267
Minnie.Gonzalez@cga.ct.gov