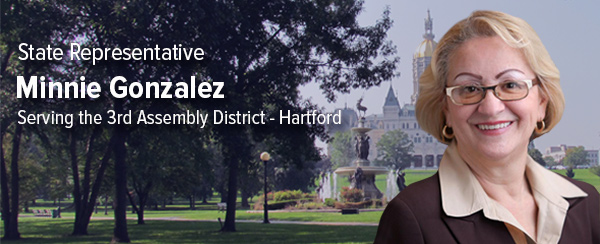 March 24, 2010
SON OF HARTFORD HIT-AND-RUN VICTIM CALLS
ON LEGISLATURE TO CHANGE HIT-AND-RUN LAW
Sen. Fonfara says proposal would crack down on offenders,
grant justice to victims, help deter future crimes
Hartford – State Senator John W. Fonfara (D-Hartford) today praised the legislative testimony and proposals of Angel Arce, son of Angel Arce Torres—the victim of a fatal 2008 hit-and-run incident in Hartford. Mr. Arce testified before the General Assembly's Judiciary Committee today to support new legislation that would increase the penalty for negligent homicide with a motor vehicle.
Mr. Arce also called for legislation that would legally define hit-and-runs, distinguish related accidents from crimes, remove or increase the statute of limitations for prosecution of such crimes, and set appropriate legal penalties. Current law does not specifically address hit-and-run incidents.
"Hit-and-runs in Connecticut aren't considered crimes, they're considered accidents," said Mr. Arce. "Accidents happen, but when you hit someone with a car and then leave them there without telling anyone—that's not right. The man who hit my father could have been released in as little as six months. I don't want another family to have to go through that experience. I want the law to be there for them."
"Hit-and-run offenses involve not only gross negligence in operating a vehicle, but a complete lack of compassion and remorse for the victims left behind," said Senator Fonfara. "Angel Arce has suffered a great loss, and I hope the legislature will heed his words to close the gap in our laws and ensure that hit-and-run offenses are specifically codified and recognized."
"This accident conveyed the blatant disregard this individual had for public safety," Rep. Roldán said. "If this legislation could spare just one person the pain that Angel Arce and his family have gone through, it will be well worth the effort."
"Hartford has lost a well loved member of the community through this tragic and senseless act," Rep. Gonzalez said. "While it won't bring Mr. Arce's father back, I fully support this legislation increasing the penalties for hit-and-run offenses."
Mr. Arce's father, Angel Arce Torres, was crossing a Hartford street on May 30, 2008 when he was stuck by one of two vehicles that had crossed over the road's center line. Neither vehicle stopped to offer assistance, and the incident gained notoriety after a video showed witnesses also ignored Mr. Torres' plight. Paralyzed after the incident, Mr. Torres was hospitalized for nearly a year before dying of bronchial pneumonia due to his injuries.
No one was arrested in Mr. Torres' case until almost a year after the incident. Hartford resident Luis Negron, driver of one of the two cars, eventually plead guilty to first-degree manslaughter and evading responsibility. The driver of the other car remains at large.
The new legislation, SB 336, would increase the penalty for negligent homicide with a motor vehicle from an unclassified misdemeanor to an unclassified felony. In his testimony before the Judiciary Committee, Mr. Arce asked that language be added to the bill that would, amongst other things:
Legally define 'hit-and-runs' and distinguish accidents from crimes
Require drivers who strike any person with a motor vehicle to immediately stop, render assistance and provide their information to police
Increase penalties for anyone who fails to report such an incident to police within 12-24 hours
Increase penalties for hit-and-run drives under the influence of drugs or alcohol
Remove or increase the statute of limitations for prosecution of hit-and-run drivers
Mr. Arce's testimony and complete legislative proposal may be found online at: www.cga.ct.gov/2010/JUDdata/Tmy/2010SB-00336-R000324-Angel%20Arce-TMY.PDF.
---
Legislative Office Building, Room 4031
Hartford, CT 06106-1591
(860) 240-8585 | 1-800-842-8267
Minnie.Gonzalez@cga.ct.gov