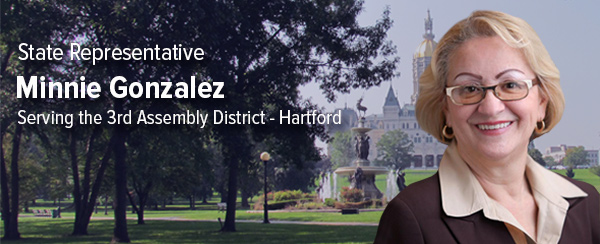 May 12, 2010
MOMENTUM BUILDS FOR ENERGY BILL AS ADVOCATES,
BUSINESSES, LEGISLATORS RALLY IN SUPPORT
Legislative leaders: Bill will lower electric rates, make CT homes
and companies more energy efficient, reduce reliance on fossil fuels
Senate President Donald E. Williams, Jr. (D-Brooklyn), House Speaker Christopher G. Donovan (D-Meriden), co-chairs of the General Assembly's Energy and Technology Committee Senator John W. Fonfara (D-Hartford) and Representative Vickie O. Nardello (D-Cheshire), and Representative Minnie Gonzalez (D-Hartford) today led a press conference at the state capitol to encourage Governor M. Jodi Rell's support of landmark energy reform, and to tout the bill's potential to lower electric rates, increase the generation of renewable energy and promote energy efficiency.
"This bill, if it becomes law, is sure to lower electric rates. For the first time since deregulation, it directs state electric agencies to contract for lower rates, and sets a target of 15 percent reduction by mid 2012. On a typical bill of $130/month, that's $19.50. Even if we're pessimistic—say we only achieve a 5 percent reduction. That's still $6.50 per month," said Senator Fonfara.
Senator Fonfara continued, "The other provisions of this bill, which promote renewable energy generated in Connecticut and reduce our reliance on messy fossil fuels, will cost ratepayers a maximum of 97 cents a month. Do the math—under almost every scenario, ratepayers come out ahead, in their pocketbooks and in the quality of the air they breathe."
"The recession has shown us that true recovery will not come without innovation. Connecticut has a fledgling, but growing renewable energy industry. We need to support these green businesses, and others that manufacture or install highly efficient equipment and appliances, and weatherize homes. This bill will make Connecticut a leader in renewable energy—that's a smart investment in a tough economy," said Representative Nardello.
In summary, the energy reform legislation will:
Provide Benefits for Consumers
Target a 15 percent electric rate reduction by July 1, 2012
Savings achieved through changes in costly electricity contracting practices and the addition of new electric generation capacity
Create and enhance loan and other incentive programs for renewable energy investments
Make energy efficient technology affordable to help homeowners and businesses lower their bills
Provide assistance for boiler replacements, solar power systems, natural gas and oil furnaces, Combined Heat and Power (CHP) projects, and other technologies
Provide consumer protections for electric ratepayers
Suppliers must provide customers with a written contract
Salespersons must pass a background check, wear a photo ID
Requires full explanation of all rates, fees, variable charges, terms and conditions
Promote Connecticut Clean Energy Businesses
Encourage consumer demand for CT green energy products and services
Provide job training and other assistance to minority-owned energy businesses
Create renewable energy incentives for green energy investments in state recognized enterprise zones
Consolidate the state's energy bureaucracy, reorganizing DPUC into the Connecticut Energy and Technology Authority (CETA)
Protect Our Environment
Make Connecticut more independent from fossil fuels and foreign oil
Reduce Connecticut's emission of greenhouse gases and other pollutants
Target generation of 300 megawatts (MW) of solar energy by 2021, 30MW of it by residential solar systems
Require electric companies to contract for new wind, hydro-electric, and other renewable generation capacity
Adopt California's stringent appliance efficiency standards for TVs and other consumer electronic products by 2013
"Our economy needs clean, responsible energy for growth. We need to save Connecticut ratepayers money. Workers need private sector green jobs, and this bill will generate them. Connecticut needs energy reform," said Speaker Donovan.
"Connecticut has the highest electric rates in the lower 48 states—it should be a top priority to change that, as quickly as possible—and in a renewable, efficient way. Legislation to do just that will land on Governor Rell's desk within days," said Senator Williams. "We have worked honestly to address many concerns in this final draft. There is a great deal in this bill we all can agree on—and we hope Governor Rell will agree with us that despite small differences of opinion, waiting for energy reform is the costliest option."
"This is compromise, comprehensive legislation drawing on input from the public testimony of many experts, professionals, and renewable energy advocates. It carefully selects the best ideas from both sides of the aisle and multiple pieces of earlier legislation, including HB 5508, HB 5217, SB 463, HB 5505, HB 5507, and SB 203—all of which had public hearings." said Rep. Nardello.
"I am especially pleased about the section of this bill that provides support for small businesses in underserved communities," said Representative Minnie Gonzalez (D-Hartford). "The backbone of any functioning community is small business, and it is very important to provide and continue this kind of support. This legislation will bring jobs to workers and job training for minority business enterprises—a key component to their success."
The legislators were joined in their support of the bill by representatives from AARP, CCAG, ConnPIRG, Environment Connecticut, CT Fund for the Environment, Solar Connecticut, Independent Connecticut Petroleum Marketers Association, SunEdison, Spanish Merchants Association, Minority Construction Council, Connecticut Association for Community Action, and others.
AARP State Director Brenda Kelley said, "This legislation will put Connecticut on a clear path to fix our broken electricity market and provide real rate relief to consumers. The time for excuses is over. We urge the Governor to take control of Connecticut's energy future by immediately signing this legislation into law."
"This energy bill moves Connecticut towards a cleaner, more efficient and more affordable energy future," said Environment Connecticut Program Director Christopher Phelps. "The bill will cut pollution and create jobs by building hundreds of megawatts of new Connecticut-based solar, wind, and other renewable power sources over the next decade. It will reduce our dependence on fossil fuels and save money for families and businesses through new and innovative financing programs supporting energy efficiency retrofits and installation of renewable energy systems at homes and businesses. We urge Governor Rell to sign this bill to cut pollution, reduce energy costs, and strengthen Connecticut's economy."
"On behalf of 600 local heating oil dealers—who employ over 13,000 people—serving 682,000 Connecticut residents, we are here today in support of the vision and work it took to get S.B. 493 passed. Without raising taxes or charging new fees—this legislation can reduce home heating costs between 30 percent to 40 percent per year. That means a savings of more than $1,000 per year to heat your home. In addition to consumer savings—this bill will retain and grow local jobs. The potential demand for new heating equipment that this energy bill will create could mean the addition of dozens if not hundreds of new jobs for Connecticut. This energy bill epitomizes job stimulus, green jobs, reduced consumption of fuel, a cleaner environment and reduced costs for consumers. We urge Governor Rell to sign this bill into law so Connecticut can begin reap the benefits that this legislation offers" said Chris Herb of the Independent Connecticut Petroleum Association.
"This bill will provide assistance for Connecticut residents to make efficiency and renewable energy improvements to their own homes, to replace old boilers and other inefficient equipment," said Senator Fonfara. "The bill establishes a program to assist the neediest in our state with their electric bills—to reduce electric costs for low income seniors and families without increasing costs for all other ratepayers. It enhances consumer protections for electric ratepayers, facilitates the creation of green energy jobs, and provides incentives and job training assistance to promote growth of minority owned energy businesses."
"Any savings that can be realized by small business owners is certainly a plus. With the high cost of energy, small business owners are having a very difficult time keeping up with their bills. In addition, moving toward making businesses more energy efficient will produce savings for small business owners that could be invested in other areas of their businesses," said Frank Alverado of the Spanish Merchants Association.
---
Legislative Office Building, Room 4031
Hartford, CT 06106-1591
(860) 240-8585 | 1-800-842-8267
Minnie.Gonzalez@cga.ct.gov