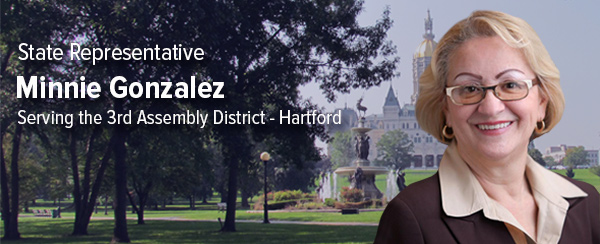 April 4, 2011 
State Representative Minnie Gonzalez (D-Hartford) has been appointed for the second time by Speaker of the House Christopher G. Donovan (D-Meriden) to serve on the National Council of State Legislature's Law and Criminal Justice Committee.
The NCSL Law and Criminal Justice Committee is one of 12 standing committees of the National Conference of State Legislatures that works on state-federal issues related to a broad range of matters including federalism and preemption issues, constitution and constitutional law, civil rights and liability issues.
"As a previous court marshal and with my experience on many issues related to the criminal justice system, I am eager to continue working on this important committee," Rep. Gonzalez said. "I look forward to applying my experience to this NCSL committee and to be able to make a positive contribution."
"Rep. Gonzalez has been a very active representative on criminal justice issues and has been a tireless and dedicated representative of the community," said Speaker Donovan. "I am sure Rep. Gonzalez will continue to bring that same energy to this committee and will make many positive contributions."
The National Conference of State Legislatures is a bipartisan organization that provides research, technical assistance and opportunities for policymakers to exchange ideas on the most pressing state issues and to advocate for the interests of states in the American federal system.
Minnie represents Hartford's 3rd Assembly District. She is Majority Whip at Large and serves on the Appropriations, Judiciary and Public Safety and Security Committees.
---
Legislative Office Building, Room 4031
Hartford, CT 06106-1591
(860) 240-8585 | 1-800-842-8267
Minnie.Gonzalez@cga.ct.gov