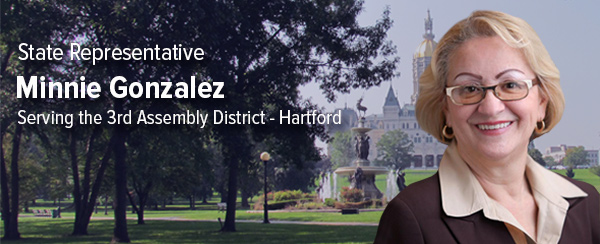 November 21, 2011 
REP. GONZALEZ ELECTED PRESIDENT OF THE
NATIONAL HISPANIC CAUCUS OF STATE LEGISLATORS
Representative Minnie Gonzalez (D-Hartford) has been elected President of the National Hispanic Caucus of State Legislators (NHCSL). Rep. Gonzalez was overwhelmingly voted by NHCSL members to replace outgoing President Iris Martinez, a state senator from Illinois.
"I am very thankful and honored by this distinction," Rep. Gonzalez said. "I have worked with NHCSL for many years and I look forward to continuing to work in this new capacity."
The National Hispanic Caucus of State Legislators was founded in 1989 as a non partisan, non profit organization, representing over 300 elected Hispanic state legislators throughout the United States, Puerto Rico and the Virgin Islands. Since its founding, the NHCSL's primary mission has been to organize Hispanic state legislators who advocate on behalf of Hispanic communities across the United States.
The organization provides a forum for information exchange and member networking, leadership training, serves as liaison with other U.S. Hispanic organizations, promotes public/private partnerships with business and labor, and partners with Hispanic legislators representing Central and South America.
In addition, the NHCSL assists legislators in proposing legislation that advances education, healthcare, housing, economic development, criminal justice, employment and job training for the Hispanic community as well as advocates appointment of Hispanics to positions of influence in all levels and branches of government.
Minnie Gonzalez represents Hartford's 3rd Assembly District. She is Majority Whip at Large and serves on the Appropriations, Judiciary and Public Safety and Security Committees.
---
Minnie González fue la elegida
Por El Nuevo Día
La boricua Minnie González (Connecticut) fue elegida el sábado, en Fajardo, como nueva presidenta del Caucus Hispano del Concilio de Legisladores Estatales (NCHSL).
González superó, 58 votos a 21, a Richard Miranda, representante estatal en Arizona.
La representante González sustituye en la presidencia a otra boricua, Iris Martínez, senadora estatal de Illinois.Como vicepresidente fue elegido el senador estatal Richard Martínez (Nuevo México).
Juan Pichardo, senador estatal de Rhode Island y de origen dominicano, es el nuevo vicepresidente para Política Pública.
El senador del Partido Nuevo Progresista (PNP) Carmelo Ríos será el vicepresidente para Membresía. La secretaria del grupo será Ana Tovar (Arizona) y la tesorera Nora Espinoza (Nuevo México).
La convención de los legisladores estatales hispanos se celebró del jueves al sábado en el hotel El Conquistador de Fajardo.
---
Legislative Office Building, Room 4031
Hartford, CT 06106-1591
(860) 240-8585 | 1-800-842-8267
Minnie.Gonzalez@cga.ct.gov