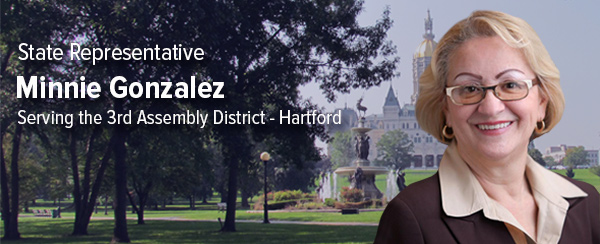 June 5, 2013
REP. MINNIE GONZALEZ APPLAUDS PASSAGE OF STATE BUDGET
Rep. Minnie Gonzalez applauded House and Senate ratification of the biennial state budget.
Rep. Gonzalez noted the budget is balanced, creates no new taxes and preserves funding for all municipalities while holding state funding steady for Hartford for the biennium.
"I am pleased this budget will not have a detrimental impact on Hartford's municipal budget which would have had a possible effect on the city's mill rate," Rep. Gonzalez said. "Pilot, Pequot funds, school transportation and town aid to roads have thankfully been funded. I thank Governor Malloy and my colleagues in the legislature for ensuring that we held the line for Hartford funding."
The budget honors the state's commitment to municipalities and maintains transportation funding grants, as well as invests in early childhood education.
Among the provisions of this budget:
Hartford will receive over $257.3 million in combined state funds in FY 14 and FY 15
No increase in income or sales taxes
Restoration of the sales tax exemption for clothing and shoes in FY 15
$3 million for violence free zones
$300,000 in each year for Raise the Grade Pilot in Hartford, Bridgeport and New Haven
$1 million each year for Jobs Employment
$1.8 million in FY 14 and $8.4 million in FY 15 for State and local charter schools
$100,000 in each year for Jobs First Employment Services
---
Legislative Office Building, Room 4031
Hartford, CT 06106-1591
(860) 240-8585 | 1-800-842-8267
Minnie.Gonzalez@cga.ct.gov