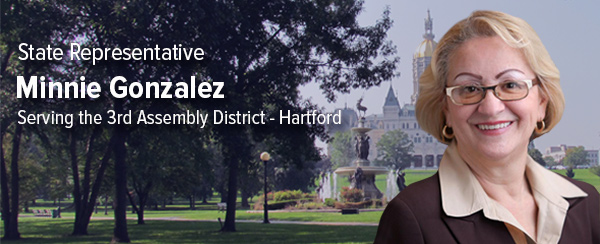 June 13, 2013
LATINO LEGISLATORS TOUT FUNDS FOR VIOLENCE PREVENTION
Hartford Representatives Minnie Gonzalez, Angel Arce and Edwin Vargas are pleased the recently approved state budget contains funding for a violence prevention program in Hartford. The $396,000 line-item will go to Compass Youth Collaborative Peacebuilders.
"I am pleased that our hard work paid off for this important violence prevention program in Hartford," Rep. Gonzalez said. "Youth violence disproportionately affects our cities and anything we can do to prevent violence on a personal level translates into an overall lowering of crime."
"There is a good reason to celebrate anytime that we get fund allocations for violence prevention," Rep. Arce said. "Our communities are in need of programs that will help our young people stay out of trouble and become productive members of society. I am pleased to see that our Hartford Latino delegation is working together towards a stronger and better community."
"It's important for all of us to work together to deal with the problem of youth violence in our communities," Rep. Vargas said. "Securing this funding to help support a program that serves our youth to help rebuild their lives makes good sense and will pay major dividends in the future."
According to their web site, Compass Youth Collaborative Peacebuilders Program works to reduce the level of violent crime throughout Hartford by building relationships built on trust. Led by a staff of local youth leaders familiar with the circumstances and the communities of the neighborhoods they serve, Peacebuilders works to reduce violence by connecting potentially violent and aggressive youth with appropriate services and activities.
Peacebuilders focuses on youth aged 13-18, during non-school hours. Peacebuilders offers conflict mediation, resource connection, crisis intervention, employment readiness and other counseling services.
More information: http://compassyc.org/Peacebuilders
---
Legislative Office Building, Room 4031
Hartford, CT 06106-1591
(860) 240-8585 | 1-800-842-8267
Minnie.Gonzalez@cga.ct.gov