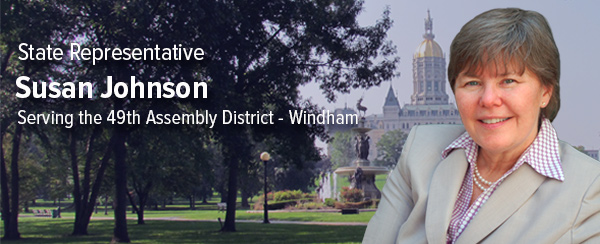 February 15, 2012
SMALL BUSINESSES ARE CRUCIAL TO GROWING OUR ECONOMY
Willimantic Business Gets Job Creation Funds
State Representative Susan Johnson hailed Governor Dannel P. Malloy's announcement that the Connecticut Casket Company qualified for funding through the state's Small Business Express Program (EXP) to expand their business and create jobs. EXP was created as a part of the bi-partisan jobs bill that was passed during the October Special Session.
"This investment will be a big help to the Connecticut Casket Company. It will allow this Windham business to hire more workers and grow our local economy," said Rep. Johnson. "Governor Malloy is clearly focused on the needs of small businesses in eastern Connecticut and I want to thank him for his strong support."
Connecticut Casket Company started designing, making, and selling custom environmentally friendly caskets in Willimantic in 2010. The company, which will retain three employees and hire three more within a year, will receive a $100,000 grant to buy equipment, improve the shop, train workers and expand its inventory. Connecticut Casket also will receive a Job Creation Incentive loan of $250,000.
"Last year, when I met with business owners and chief executives on my Jobs Tour, I heard firsthand about the tough the challenges they face and what they needed to overcome them," said Governor Malloy. "The Small Business Express Program is designed to provide an accessible source of much-needed funding that will help our small enterprises make a big impact in their communities. It's just one more way we're trying to begin an economic revival in cities and towns across our state."
In total, EXP will provide $100 million to help the state's small businesses hire more employees and fund capital investments. The program, administered by the Department of Economic and Community Development (DECD), offers loans and matching grants to Connecticut companies with fewer than 50 employees.
---
Legislative Office Building, Room 4029
Hartford, CT 06106-1591
(860) 240-8585 | 1-800-842-8267
Susan.Johnson@cga.ct.gov