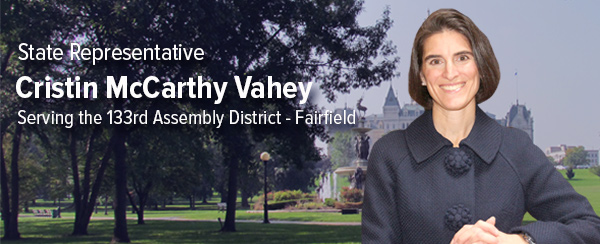 May 20, 2015
REP. McCARTHY VAHEY RIDES 40 MILES TO HARTFORD IN SUPPORT OF SENATE BILL ON BICYCLE SAFETY
Representative Cristin McCarthy Vahey (D-Fairfield) joined fellow bike and pedestrian advocates on a 40-mile trip from New Haven to Hartford in support of Senate Bill 502 concerning bicycling safety and transportation options in Connecticut.
"The opportunity to ride through many of our CT communities and talk with advocates from multiple communities reinforced the importance of pedestrian and bicycle infrastructure to keeping young people in Connecticut, protecting our environment and creating the opportunity for economic development" Rep. McCarthy Vahey said.
The 40-mile ride began in New Haven and followed both the Farmington Valley trail and the multi-use trail immediately adjacent to the CT FastTrack. Upon arrival in Hartford, advocates met with legislators to advocate for passage of SB 502.
Senate Bill 502 encourages the creation of bikeways and bike lanes, seeks to allow bicyclists to determine how far to the right they can safely ride, and clarifies how motor vehicles are allowed to pass cyclists.
"This bill allows for greater flexibility in the creation of bicycling infrastructure and improves safety for today's cyclists, commuters, recreational riders, children and the elderly," Rep. McCarthy Vahey added. "This measure will contribute to increased safety and positive economic development that also promotes healthy practices."
Cristin McCarthy Vahey represents Fairfield's 133rd Assembly District. She serves on the Appropriations, Education and Transportations Committees.
---
Legislative Office Building, Room 4001
Hartford, CT 06106-1591
(860) 240-8585 | 1-800-842-8267
Cristin.McCarthyVahey@cga.ct.gov