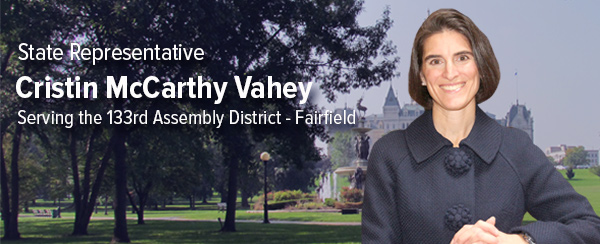 August 14, 2015
REP. MCCARTHY VAHEY ATTENDS SIGNING OF DYSLEXIA BILL
State Representative Cristin McCarthy Vahey (D-Fairfield) joined parent and student advocates, the Governor and Lt. Governor and legislative colleagues in a signing ceremony at the state capitol for a bill to help Students with Dyslexia. McCarthy Vahey co-sponsored the Students with Dyslexia bill, PA 15-97.
"I am very pleased to have been able to play a key role in the Education Committee on this important bill," Rep. McCarthy Vahey said. "Early detection and diagnosis are keys to long term academic success."
The law will require the State Department of Education to designate professionals to help parents and boards of education implement measures for detecting and providing services to students with dyslexia. The bill also includes improved teacher preparation programs and in-service teacher dyslexia training.
Dyslexia diagnoses have been increasing during the last several years. Some of the signs and symptoms of dyslexia include being unable to read, write or spell at grade level while otherwise appearing bright and intelligent, having a high IQ but not testing well academically and testing well orally but not in writing.
"Dyslexia has affected many students over the years and has negatively impacted their studies. We now have the resources and know-how in place to intervene and mitigate dyslexia's effects and improve future outcomes," Rep. McCarthy Vahey added.
---
Legislative Office Building, Room 4001
Hartford, CT 06106-1591
(860) 240-8585 | 1-800-842-8267
Cristin.McCarthyVahey@cga.ct.gov