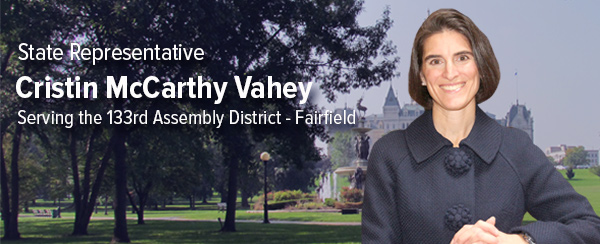 November 5, 2015
REP. MCCARTHY VAHEY APPOINTED TO COMMISSION CHARGED
WITH HELPING TO IMPROVE BUSINESS CLIMATE
State Representative Cristin McCarthy Vahey (D-Fairfield) has been named by House Speaker Brendan Sharkey (D-Hamden) to the new Commission on Economic Competitiveness. McCarthy Vahey, one of two legislators appointed to the Commission, is joined by leaders from the Connecticut Business and Industry Association (CBIA), CT Voices for Children, The Business Council of Fairfield County, AFL-CIO, the Commissioners of Revenue Services and Economic & Community Development and other stakeholders.
The Commission will analyze state policy on business and industry and recommend steps to enhance Connecticut's competitiveness and promote economic growth.
"Connecticut has many assets: human, natural and capital.  How well diverse sectors work together to maximize those assets for job creation and economic opportunity will determine the future of our state," Rep. McCarthy Vahey said. "I am excited to work with Commission members and fellow legislators to advance real solutions that will spur economic activity and improve the opportunities for all of the people of Connecticut."
"From the moment Rep. McCarthy Vahey was sworn in, it was clear that job creation and encouraging economic growth was a top priority," Speaker Sharkey said. "She brings a critical voice to this important commission, which will give the legislature a focused look from the perspective of our business community."
The Commission will provide the legislature direct input as to how to best align competitiveness goals with tax and fiscal policy. The needs of small and large businesses, tax policy, and legislative recommendations are among the items that will be addressed by the Commission.
The Commission's last meeting, held on November 5, included a presentation by Jeffrey Hyde, Senior State Tax Counsel for IBM, who provided an overview of unitary combined reporting, and CT State Tax Basics by Commissioner Kevin Sullivan. The next meeting is scheduled for December 3rd. Further information regarding the Commission can be found at http://1.usa.gov/1LJ7rQc and meetings can be viewed at www.ct-n.com
---
Legislative Office Building, Room 4001
Hartford, CT 06106-1591
(860) 240-8585 | 1-800-842-8267
Cristin.McCarthyVahey@cga.ct.gov