STATE REPRESENTATIVE
Cristin
McCarthy Vahey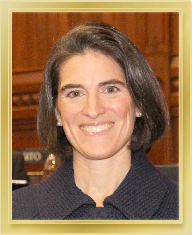 Serving the 133rd Assembly District




Legislative Office Building, Room 4001
Hartford, CT 06106-1591
Capitol: 800-842-8267
Cristin.McCarthyVahey@cga.ct.gov
Dear Friends,
Thank you for giving me the privilege to represent you in the General Assembly. It is an honor to serve you in Hartford as I work with so many of you to make our state the best it can be.
As a freshman legislator, I introduced bills related to Affordable Housing, Bicycle Safety and Infrastructure, Regulation of Electronic Cigarettes, Microbeads, and fines for snow dumped in handicapped parking spaces. With the support of Fairfielders, advocates and fellow legislators, all but one became law. In addition, I was honored to be named one of this year's Environmental Champions by the Connecticut League of Conservation Voters.
There were many other bills I supported and even co-sponsored, but the most important and difficult vote was my vote on the state budget. Though I support many important programs within the budget, including transportation investments and care for our most vulnerable, I was one of 11 Democrats who voted no on the biennial budget. Together with a group of Democrats, I brought concerns to leadership and was successful in eliminating some of the new taxes proposed (data taxes) while working to restore critically necessary funding for the most vulnerable in our greater community, and mitigating others.
Here in Fairfield we face the possibility of GE's departure and this is causing much anxiety within our community. Many of our neighbors and friends are employed by GE, which creates further stress for Fairfielders. As one of two legislative appointees to the new Commission on Economic Competitiveness, I will continue to fight for a Connecticut that is competitive while retaining jobs with the priority of caring for the most vulnerable.
The challenges we face are real and there are many difficult conversations ahead. I will continue to bring stakeholders together, listen to all who are interested in thoughtful dialogue, and create sustainable solutions. I remain confident in Fairfield's strength and resiliency, and vow as your state representative to continue to fight for the people of Fairfield and for our amazing state.