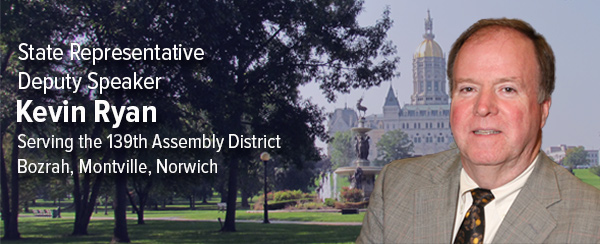 December 14, 2007
Representative Kevin Ryan recently received the New London County 4-H Foundation's "Golden Clover Award" in recognition if his support of the organization.
"I am deeply honored to have received this award," Rep. Ryan said. "I am a firm believer in the programs and skills that the 4-H Club provides our young men and women in this state. For years, the 4-H Club has been an invaluable tool in the continuing success and sustenance of Connecticut agriculture."
Throughout his legislative career Rep. Ryan has been a strong supporter of the 4-H Club. During this time Rep. Ryan has attended 4-H events, donated money through their fundraisers, sponsored children to help them afford summer camp fees and helped obtain state funding to remodel the 4-H campus buildings.
"I look forward to continuing to work with the New London Country 4-H Club in both a professional and personal manner," said Rep. Ryan. "These kids and their leaders can count on my support."
Representative Kevin Ryan is currently serving his 8th term representing the towns of Bozrah, Franklin, Lebanon and Montville. He is presently the chair of the Labor Committee as well as a member of the Appropriations and Public Health Committees.
---
Legislative Office Building, Room 4012
Hartford, CT 06106-1591
(860) 240-8585 | 1-800-842-8267
Kevin.Ryan@cga.ct.gov