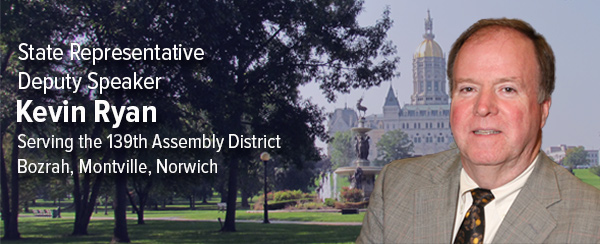 June 3, 2009
State Representative Kevin Ryan applauded the passage of a dairy farm relief package at the state legislature to save Connecticut's dairy industry. The legislation will provide about $10 million to bring short-term relief to our state's struggling dairy farms.
"Preserving our remaining dairy industry is the right thing to do," said Rep. Ryan. "Dairy is a billion-dollar industry that employs thousands in Connecticut – There are 12 working dairy farms in my district alone."
Senate Bill 891 changes how money would be distributed under the Community Investment Account (CIA). Currently the $40 fee for recording municipal land documents is dived equally among four state agencies to fund heritage preservation, affordable housing, municipal open space, and farmland preservation.
This bill will now allot 20 percent of the CIA grants to three agencies for heritage preservation, affordable housing, and municipal open space. The remaining 40 percent will be granted directly to dairy farmers to help them stay in business.
Dairy farms have been disappearing in Connecticut for some time. Since 2006, 22 Connecticut dairy farms have gone out of business, including two in Middlefield.
Kevin Ryan represents the towns of Bozrah, Franklin, Lebanon and Montville in the 139th District. He is House chair of the Labor and Public Employees Committee.
---
Legislative Office Building, Room 4012
Hartford, CT 06106-1591
(860) 240-8585 | 1-800-842-8267
Kevin.Ryan@cga.ct.gov