March 10, 2015
PRESIDENT OBAMA AND CT DEMOCRATIC LEGISLATORS
CALL FOR STUDENT LOAN BILL OF RIGHTS
"The cost of higher education has sadly become out of reach for most students without taking out personal loans," said Speaker of the House Brendan Sharkey (D-Hamden). "The entire loan process, terms, and responsibilities can be overwhelming, particularly for young people, and that is why it makes sense to adopt protections with a student loan bill of rights."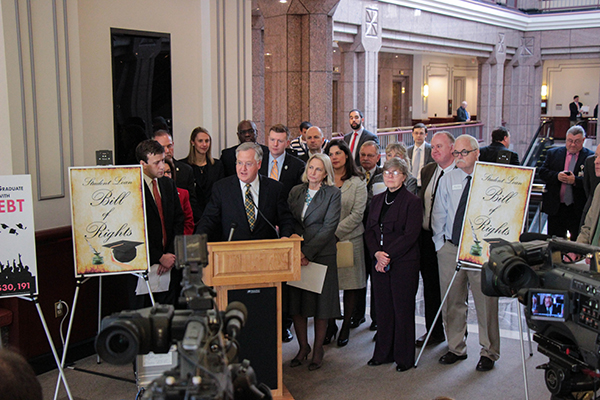 State Reps. Matthew Lesser and Roberta Willis were happy to join Speaker Sharkey and a broad coalition of students and advocacy groups at a press conference in support H.B. No. 6915, An Act Concerning A Student Loan Bill of Rights. If passed, Connecticut would be the first state in the country to adopt such a measure, establishing a student loan ombudsman to regulate student loan servicers and assist student borrowers and parents.
Under the raised bill, student loan servicers will be required to register with the Department of Banking and the ombudsman will help students resolve complaints with these servicers as well as with their university. The ombudsmen will also be charged with compiling data on borrower complaints and developing a student borrower education course to help improve financial literacy among students.
"Student debt is the leading economic issue of my generation. We need more financial education, more hands-on-assistance, and strong regulation of the industry in order to protect students and parents. With a Student Loan Bill of Rights, Connecticut will once again lead the country and we will do all of these," said Rep. Lesser.
CTNewsJunkie covered the press conference. Read the article here.
Share