July 1, 2015
NEW LAWS TAKING EFFECT JULY 1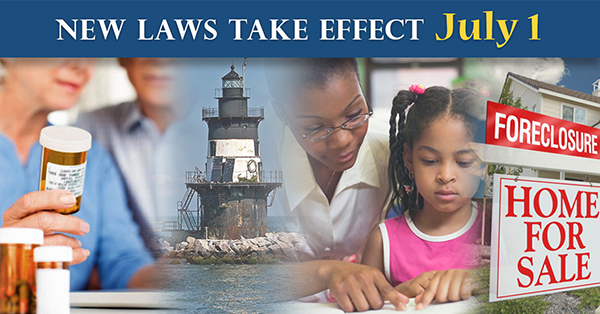 Many of the laws the general assembly passes take effect on a quarterly basis, and today several important bills to help children, seniors, and working families become law. Additionally, laws protecting precious resources like Long Island Sound, protecting our state's motorists from drunk drivers, and growing clean and renewable energy also take effect.
Some of these laws were passed during the 2015 session Session which ended in early June, others are laws passed in previous years that did not take effect until now. There are many reasons why there might be a delay between the passage of a bill, and it becoming law; in some cases it is because state agencies need time to prepare regulations or procedures necessary to enforce it. In other cases, the law might take effect later to allow businesses and organizations that the law effects time to adjust and comply with the law. In some cases, the law takes effect to gradually phase in changes – this is the case with the minimum wage, which is increasing over a period of years.
You can read descriptions of selected laws below. If you'd like more information about specific law, its legislative history, or to read testimony for or against, you can click to read more about it on the CGA website. Click here for a full list of laws going into effect today.
From 2014:
INCREASING ACCESS TO BIRTH CERTIFICATES AND HEALTH INFORMATION FOR ADOPTEES
Adoptees often have no information regarding their parents' medical history. To help adoptees access their medical history to protect themselves and their children from hereditary disease, we required the Department of Public Health (DPH) to give adults whose adoptions were finalized after October 1, 1983 copies of the adoptee's original birth certificate upon request. When providing the certificate, DPH must provide a notice stating that the birth parents' contact preferences and medical health history forms may be on file with the Department of Children and Families. Since October 1, 1983, birth parents that put their children up for adoption were notified that their children would have the right to identifying information when they turned age 18.
AAC IGNITION INTERLOCK DEVICES
Ignition interlock devices have been shown to deter drunk driving more effectively than long license suspensions, which are difficult to enforce. This law updated Connecticut's drunk driving laws by replacing long license suspensions with the use of ignition interlock devices. The law reduces the DMV administrative license suspension period for all violations to 45 days and imposes an ignition interlock requirement after the suspension period.
From 2014:
SAFEGUARDING OF FUNDS FOR RESIDENTS OF CERTAIN LONG-TERM CARE FACILITIES
It is already state law that nursing home residents need to be informed of how their personal funds are being used by the facility. This year we are now requiring that residential care homes provide the same information to the residents. Residential care homes are facilities that provide a room, meals and supervision but no nursing services for adults whose limitations prevent them from living alone.
EXTENDING THE FORECLOSURE MEDIATION PROGRAM
The Foreclosure Mediation Program provides vital services to consumers facing foreclosure. These services are still needed as the Connecticut economy continues to recover and homeowners may still be at risk of foreclosure. The program has helped many individuals and families avoid foreclosure, so we passed legislation extending the sunset date of the Foreclosure Mediation program to July 2019. This essential program can now continue to function and serve more Connecticut residents.
IMPLEMENTATION OF THE COMPREHENSIVE CHILDREN'S MENTAL, EMOTIONAL, AND BEHAVIORAL HEALTH PLAN
In the aftermath of the Sandy Hook tragedy, the state got to work on an implementation plan to meet the mental, emotional and behavioral needs of our children. This newly created Children's Mental, Emotional and Behavior Health Plan Implementation Advisory Board will bring numerous professionals together to help our state monitor how we are taking care of our young children. Beginning September 15, 2016, the board shall submit an annual report detailing (1) the status of the execution of the implementation plan, (2) the level of collaboration among the agencies and stakeholders involved, (3) any recommendations for improvements in the execution of the implementation plan or the collaboration among such agencies and stakeholders, and (4) any information the board deems necessary and relevant to prevent or reduce the long-term negative impact of mental, emotional and behavioral health issues on children.
Students enrolled in alternative education programs don't always have access to the same resources as mainstream students, which can lead to a lack of consistency in these programs. This legislation creates more accountability by developing goals and standards, improving performance reporting both locally and at the state level. The State Department of Education will now be required to audit certain alternative education programs. This law also provides more flexibility to towns by allowing districts to set up programs within existing schools. In addition, two or more towns will now be able to work together to provide their students with alternative education.
IMPLEMENTING THE RECOMMENDATIONS OF THE ACHIEVEMENT GAP TASK FORCE CONCERNING THE CREATION OF A DIRECTOR OF READING INITIATIVES AT THE DEPARTMENT OF EDUCATION
A core function of our State Department of Education is to ensure that our children can read. A task force of the General Assembly found that one of the main reasons for our state's achievement gap is a lack of early childhood literacy programs. The formative grades of K-3 are a critical time for students to learn how to read, and when reading help is most effective. This new law requires the State Department of Education to hire a Director of Reading Initiatives who is charged with implementing a statewide reading plan and coordinate the state's various reading initiatives.
AFFORDABLE AND RELIABLE ENERGY
This law provides Connecticut with the tools we need to procure affordable and reliable energy in accordance with our renewable energy goals. It allows the Department of Energy and Environmental Protection (DEEP) commissioner to solicit long-term contracts for various energy resources, including: wind, solar, biogas, fuel cells, waste heat recovery, and natural gas, among others.
The DEEP commissioner may select one or more suitable proposals and direct the electric companies to enter into long-term contracts. Agreements are subject to the Public Utilities Regulatory Authority's (PURA) approval. The bill limits all contract terms to 20 years and puts other limitations on the size and scope of proposals.
LONG ISLAND SOUND BLUE PLAN AND RESOURCE AND USE INVENTORY
Long Island Sound remains one of our most precious state resources. To protect the Sound, the "Blue Plan" will inventory the resources, uses and conservation areas of our portion of Long Island Sound. With this plan in place, the Department of Energy and Environmental Protection along with the newly established 16-member Long Island Sound Resource and Use Inventory and Blue Plan Advisory Committee will be able to more clearly and effectively manage our offshore waters through data-driven processes. It will also help streamline, allocate and coordinate our resources, including state agencies, academic institutions, and other stakeholders. Plans similar to this have been instituted by a number of our neighboring coastal states with great success.
FREEDOM OF ASSOCIATION IN PUBLIC HOUSING
For years, public housing associations have regulated the use of their common areas. While many of these regulations are sensible and contribute to the overall safety and enjoyment of their residents, one prohibition severely limited tenants' right to free speech. Under this new law, public housing projects will no longer be able to ban political activities or meetings on social issues, allowing tenants who might otherwise have a hard time leaving the premises to invite candidates or speakers into their facility.
MEDICAID COVERAGE FOR OVER-THE-COUNTER DRUGS
Medicaid coverage for the over-the-counter drugs and other products has now been expanded. A growing number of medications that were formerly only available by prescription are becoming available over-the-counter, thus generating potential savings to the state. In addition to these over-the-counter drugs, certain other products such as nutritional supplements may also be covered.
This law allows greater transparency in wage amounts and seeks to reduce wage inequality by prohibiting an employer from preventing an employee from discussing their wage with another employee or requiring that an employee sign a document prohibiting them from doing so. Any employer who violates this law will be subject to compensatory damages, including attorney's fees and punitive damages.
RECOMMENDATIONS OF THE SCHOOL NURSE ADVISORY COUNCIL
Studies show that students with access to school nurses have better school attendance and lower dismissal rates than students who don't. Now local and regional boards of education are required to have at least one school nurse or nurse practitioner for every 750 students. All school nurses and nurse practitioners must complete the school nurse orientation program offered by the State Department of Education and the Association of School Nurses of Connecticut within one year of his or her hire date.
Connecticut continues to make bicycle safety a priority while maintaining safety and convenience for motorists. This law clarifies that bicyclists must generally keep to the right of the road except in certain circumstances such as passing and turning left. It allows motorists to cross the center line in a no-passing zone in order to pass a pedestrian, bicyclist, moped or scooter as long as it is safe to do so. It also requires the Department of Transportation to update design standards, where appropriate, to the National Association of City Transportation Officials Urban Bikeway and Urban Street design guides.
Share