October 1, 2015
NEW LAWS TAKING EFFECT OCTOBER 1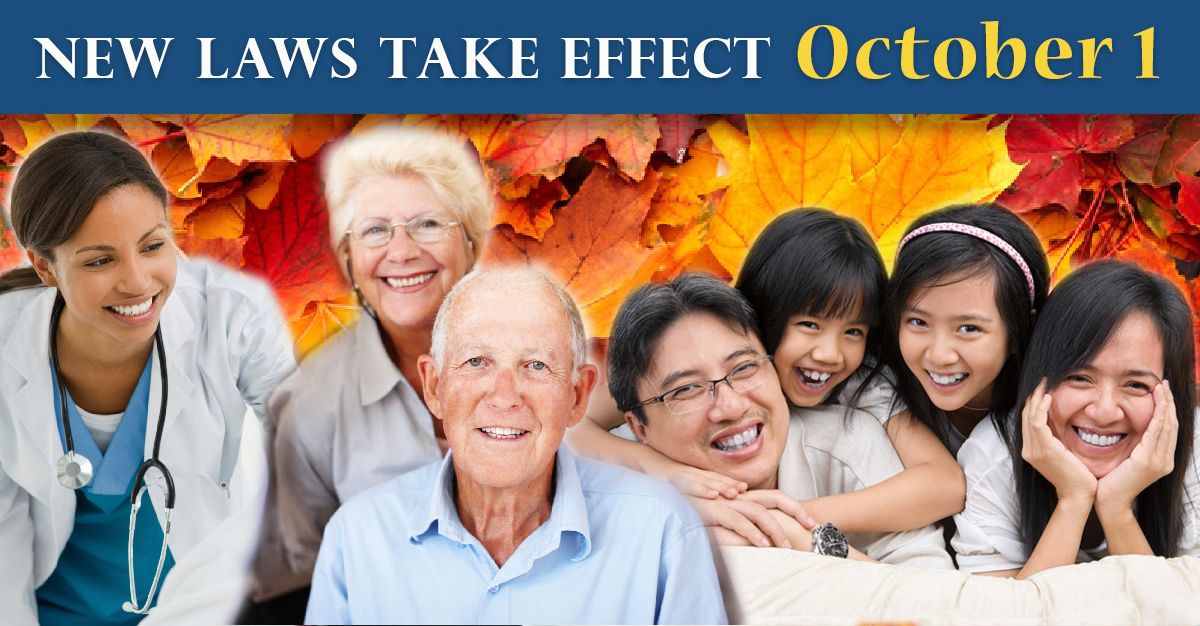 Many of the laws the General Assembly passes take effect on a quarterly basis, and today several important bills to help children, seniors, and working families become law. Additionally, laws that make our justice system more fair, help veterans and active duty service members, help stop abuse of prescription drugs and opiates, make college more affordable for families, and grow clean and renewable energy also take effect.
You can click on the title of each law to read a short description - the links below will take you to the text of the law, summaries from the General Assembly's Office of Legislative Research, and a page where you can read testimony and track the legislative history of each law. You can also check out a full list of laws going into effect today here.
Connecticut's drug policies have swelled our prisons, and our budgets, with nonviolent drug offenders who struggle to reintegrate into society upon release. The Second Chance Society will ensure public safety, save money, and help end the culture of mass incarceration by lowering sentencing for nonviolent offenses. The Second Chance Society will give ex-offenders more opportunity to get back into the workforce – and will also save millions in taxpayer dollars.
Restoring Trust Between Law Enforcement and Minority Communities
This year we took a look at the critical issue of restoring trust between law enforcement and minority communities. Among some of the most key provision of the new "Excessive Use of Force" law: Police units will now face new requirements for promoting diversity and will receive training in the proper use of physical force. They will also be required to document incidents where an officer's discharge of a weapon or use of force likely caused a serious physical injury or death. State police will now be required to use body cameras and local police to do so if they receive state grants to fund the equipment and data storage. An independent prosecutor will be now assigned to investigate allegations that an officer's physical force resulted in the death of a person.
(HB 7103 / SS PA 15-4)
Reducing Pesticide Use Around Children
Children are particularly vulnerable to the health risks of pesticides. Connecticut has taken a proactive approach in dealing with these harmful chemicals by banning the use of pesticides on many municipal spaces. School websites and social media will be used to notify parents and students of an application of pesticides at least 24 hours before it's applied. Safer alternatives to using pesticides will be encouraged as well as the implementation of integrated pest management solutions.
Expanding Communities' Access to Renewable Energy
Developing renewable energy sources is key to Connecticut's goals for creating a sustainable energy future. Starting October 1, 2015, towns and cities may submit proposals to develop renewable energy source (such as solar, wind, fuel cells, geothermal, biogas waste, and hydropower) facilities. Accepted proposals will be funded through the Economic Development Commission. Developing these sources will conserve energy, grow jobs and save money for communities and residents.
Protecting the Online Privacy of Employees
This law helps protect the privacy of employees by prohibiting employers from requesting or requiring access to personal online accounts such as social media, requiring an employee to show employers such accounts, or requiring an employee to connect with the employer in some way (i.e. becoming a friend on Facebook). It also prevents employers from firing or disciplining employees for refusing same, and protects job candidates who refuse to provide this information.
Establishing the Connecticut Women Veterans' Program
This year the legislature passed legislation that recognizes the important sacrifices that female veterans have made while defending our country. Beginning October 1, the Department of Veterans' Affairs will be required to conduct outreach regarding benefits and services available for female veterans while taking into account the needs and obstacles women face. The program will submit an annual report to the legislature recommending new initiatives and detailing which benefits and services that would be best for female veterans. It is vital that we protect those who protect us and this legislation is a good way to honor these important women.
(SB 904 / PA 15-8)
Some patients end up returning to the hospital soon after discharge because they had not been instructed properly on their follow-up care or were unable to follow instructions. This law the CARE, (Caregiver Advise, Record, Enable) Act, requires that a hospital document a caregiver in the patient's discharge plan, designated by the patient. They must attempt to notify the caregiver of the patient's discharge, and to instruct the caregiver on any post-discharge tasks with which the patient will need assistance.
(SB 290 as amended by Senate A / PA 15-32)
Language Interpreters in Hospitals
Connecticut is a diverse state, with people from all over the world settling and establishing their lives here. With this in mind, this year we are requiring that that interpreter services be available to patients whose primary language is spoken by at least 5% of the population residing in the hospital's geographic service area.
(SB 856 / PA 15-34)
Educating Parents about Safe Sleep Practices for Infants
Recommendations on safe sleep practices have varied over the years and it's important to stay up to date on the latest information. As of October 1, hospitals are required to give parents written information with the American Academy of Pediatrics' recommendations on safe sleep practices after infants and newborns have been cleared to go home. This measure will help reduce the number of unintentional and preventable infant deaths.
(SB 258 as amended by Senate A / PA 15-39)
Preventing the Sale of Counterfeit Prescription Drugs
Prescription drug counterfeiting has become an increasing problem worldwide. We took steps this year to strengthen our state's counterfeit prescription drug laws. This measure establishes penalties, both civil and criminal, for dispensing, importing or reimporting of counterfeit drugs or devices by an individual in Connecticut.
(SB 998 / PA 15-49)
Security Freezes on Children's Credit Reports
Child identity theft is an increasing problem. Currently, Connecticut parents are not able to freeze the credit of their children. Parents will now be able to freeze their child's credit, protecting them from potential financial harm. When a child's credit is frozen, it is impossible to take out lines of credit in their name. Once a child is no longer a minor, their credit will be automatically unfrozen.
(HB 6403 / PA 15-62)
Keeping Active Members of the Armed Forces and the National Guard from being Excluded from Coverage under Certain Life Insurance Policies
We are always looking for ways to help servicemen and women and their families. One way is to make sure that their families are able to get the same kind of life insurance coverage that civilian families get. Starting in October, insurers will be prohibited from issuing a life insurance policy or annuity that excludes coverage for the military service member in the event that his or her injury or death is military service or war.
(HB 6952 / PA 15-70)
Reducing The Costs of Long-Term Disability
The costs of long-term disability can be astronomical, and many who suffer from these disabilities end up on state or federal assistance. The General Assembly passed a law that allows for tax-free savings accounts that will help individuals and families pay for certain expenses related to their disability. Anyone can contribute to this account. Under this new law, money set aside in these accounts for critical expenses like education, housing, and transportation will not be considered when applying for various programs such as Medicaid or need-based financial aid for college. This new program will allow low-income families who have savings designated for a disabled relative, but are still in need of services, to obtain these critical services for their loved one.
(HB 6738 / PA 15-80)
Prohibiting Enforcement of Ordinances Across Town Lines
A lot of publicity occurred over an incident this winter when a West Hartford police officer crossed into Hartford and questioned a resident for shoveling his own driveway. Existing law allows local police officers to follow someone outside of their precinct while in immediate pursuit of an arrest. Now a police officer trying to enforce a municipal ordinance will be prohibited from pursuing someone across town lines.
(HB 6863 / PA 15-83)
Fair Treatment for Juveniles in the Criminal Justice System.
New brain science and sociological studies show that the brains of young people are more susceptible to negative influences than the brains of adults. This has led to recent U.S. and Connecticut Supreme Court decisions limiting the application of adult sentencing rules to juveniles. Two laws this year address this issue. Criminal courts will now be required to consider evidence showing the difference between juvenile and adult brain development when sentencing for certain felonies committed prior to reaching 18 years of age, and requires that those serving sentences of over 10 years have a parole hearing after serving a portion of their sentence.
(SB 796 as amended by Senate A / PA 15-84)
Establishing a Bill of Rights for Residents of Continuing-Care Retirement Communities
This year we created a bill of rights for senior citizens living in continuing care retirement communities. This bill of rights gives residents a voice in decisions that affect them within these communities. It requires transparency regarding the financial stability of the facility, and notification to residents of major construction or any changes in ownership. It also gives residents more independence in making decisions about their medical care and assisted living services and requires reasonable accommodations for disabilities under the Americans with Disabilities Act.
(HB 5358 as amended by House A / PA 15-115)
Beefing up Students' Financial Literacy Education
To make sure high school and college students are prepared to manage their personal finances and understand the importance of maintaining a good credit score, this legislation broadens the curriculum topics that must be developed by the Department of Education, Board of Regents, and the UConn Board of Trustees. The curriculum must include the topics of banking, investing, savings, and the handling of personal finances.
(SB 319 / PA 15-138)
Protecting Suspected Elderly Abuse Victims
This year we also focused on protecting our seniors from elder abuse. To protect residents of nursing homes, the Department of Social Services must notify a resident's designee or legal guardian of any suspected abuse, neglect, exploitation or abandonment within 24 hours of receiving notice from a medical provider or other mandated reporter.
HB 5257 as amended by House A / PA 15-150)
Helping Residents of Subsidized Housing Move to Better Neighborhoods
Studies have shown that families moving from high poverty areas to ones with more opportunities have a better chance at succeeding. It can often be difficult for families residing in low-income neighborhoods to move to a better community. As of October 1 the Department of Housing (DOH) will be required to create a residence mobility counseling program to assist those who receive housing subsidies with the relocation process. Participants will be provided with the necessary information for them to have a smooth transition into an area with better job and education options and better environment overall.
(HB 6138 as amended by House A / PA 15-153)
Creating a Student Loan Bill of Rights
Applying for college loans can be complicated and confusing. We created an office of the Student Loan Ombudsman to assist students in navigating the loan process and educate them about the different options they have for repaying their loans. The Ombudsman will also be responsible for handling student issues and complaints about their loan servicers, and will be investigating these claims to ensure that students are being fairly treated.
(HB 6915 as amended by House A / PA 15-162)
New Age Requirements for Juveniles Tried as Adults
We raised the age when juveniles are automatically transferred to adult court from age 14 to age 15. It also excludes certain B felony offenses from automatic transfer to adult court and requires a hearing first, as is required for less serious felonies under current law. We also limited the circumstances under which juveniles must be shackled in the courtroom.
Preventing Substance Abuse and Opioid Overdose
According to 2013 data from the Centers for Disease Control, more than half the drug overdose deaths in the United States were related to pharmaceutical drugs. To help combat this public health problem, we passed legislation requiring prescribers (physicians, physician assistants, APRNs and dentists) to get trained in how to properly prescribe controlled substances. If prescribing more than than a 72-hour supply of any controlled substance, the practitioner must check the patient's record in the prescription drug-monitoring program, and report those prescriptions to the program immediately. Pharmacists will also be allowed to prescribe opioid antagonists, used to treat drug overdoses, if they receive special training and certification to do so.
(HB 6856 as amended by House A / PA 15-198)
Authorizing Bow and Arrow Hunting on Certain Private Property on Sundays
As of October 1, bow hunters will now have more flexibility in the hours that they may hunt since bow hunting will then be allowed on Sundays, as long as the hunting takes place on private property in overpopulated deer management zones. DEEP expects to issue more permits for bow hunting as a result of expanding these hours.
(HB 6034 / PA 15-204)
Regulating Electronic Nicotine Delivery Systems and Vapor Products
The introduction of electronic cigarettes has raised concerns about health risks of exposure in settings where tobacco smoking is currently banned by law. This year we regulated electronic cigarettes and associated devices to conform with existing restrictions on smoking, banning them in state buildings, schools, child care facilities, dormitories, restaurants, places serving alcohol, and healthcare facilities. Tobacco bars and other designated areas are exempt from the restrictions.
(HB 6283 as amended by House A / PA 15-206)
Protecting Elderly Consumers from Exploitation and Adopting the Connecticut Uniform Power of Attorney Act
We have taken steps to protect our seniors from abuse and from being taken advantage of financially. This law adds a number of protections, including:
EMT's are added to the list of mandated reporters of elder abuse.
Certain financial agents must receive training on elderly fraud, exploitation, and financial abuse.
Someone convicted of 1st or 2nd degree larceny or 1st degree abuse of an elderly or disabled person is prohibited from inheriting, receiving insurance benefits, or receiving certain property.
(SB 1005 by Senate A / PA 15-236)
Share