February 5, 2016
JOE GRESKO SWORN IN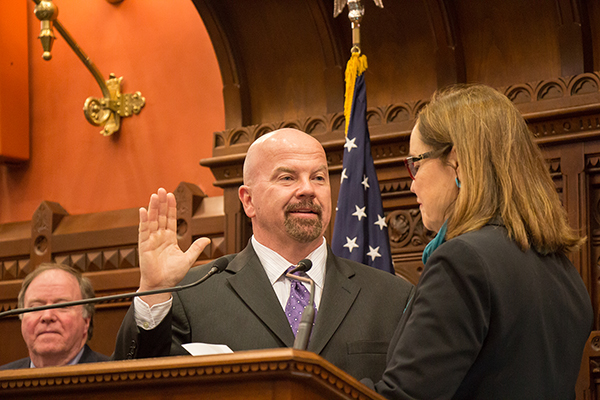 Congratulations and welcome to our newest legislator, Rep. Joe Gresko of Stratford! Joe was sworn in on Wednesday to fill the seat left by the passing of his good friend and mentor, Terry Backer, until his passing late last year. Until recently, Joe served in Hartford as a communications coordinator for Terry and other legislators.
Born and raised in Stratford, Joe grew up on Mary Avenue. He attended Holy Name Elementary, Wooster Middle and Stratford High School. After obtaining a Bachelor of Science degree in environmental science from Central Connecticut State University, Joe worked as a weather forecaster with Dr. Mel Goldstein at Western Connecticut State University before catching the news bug and beginning a career in radio news. He had a successful career as a radio news reporter/anchor at WICC, winning many Associated Press awards and twice the Ellen Abrams award for best radio reporter in the state.
Joe was interviewed by the Hartford Courant on his plans and goals for the upcoming session:
On the budget:

The big news of the day in Hartford Wednesday was the state budget but there's also a Stratford budget that needs attention. Gresko said he wants to make sure the town gets the maximum amount of funding for a renovation project at Stratford High School. And he doesn't want to see municipal aid cut.
On Green Energy:
Gresko, who replaced noted environmentalist Rep. Terry Backer after he died of brain cancer, said he's interested in promoting the Connecticut Green Bank, which provides incentives for solar.
"We're the only one in the nation that has that," he said. "I foresee and believe that type of industry … is somewhere where Connecticut has the knowledge and the passion for the environment and it's something we could excel at if we put our minds to it."
READ MORE IN THE HARTFORD COURANT
---
Legislative Office Building, Room 4000
Hartford, CT 06106-1591
(860) 240-8585 | 1-800-842-8267