STATE REPRESENTATIVE
Christopher Rosario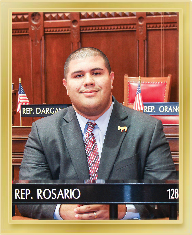 Serving the 128th Assembly District




Legislative Office Building, Room 5006
Hartford, CT 06106-1591
Capitol: 800-842-8267
Christopher.Rosario@cga.ct.gov
Dear Friend,
Thank you for your support. It has been an honor to represent you in the General Assembly. There have been many intensely debated issues this legislative session and it has been a privilege to represent the people of Bridgeport in each of those discussions.
Connecticut's economy continues to recover and looking back at the 2015 legislative session I am proud of the steps the legislature took to grow our state's economy. We have continued to make important investments in Connecticut's Small Business Express Program, which has succeeded in helping to grow our small business community. The property tax burden has also remained a primary concern for many small businesses, and thankfully we worked to increase municipal aid in order to ease property taxes.
We stood up for our seniors by passing many more laws to protect them from potential abuse. We have expanded the definition of neglect to include elderly people who do not live alone but are mistreated by a caretaker and now require the Department of Social Services to notify a nursing home resident's designee within 24 hours if abuse is suspected.
We have also made historic investments in our transportation system and increased Education Cost Sharing (ECS) funding for many cities and towns. These investments are critical to growing our economy as businesses will not come to Connecticut if their employees cannot get to work in a safe and timely manner, and if we do not have an educated workforce ready to fill 21st century jobs.
I hope you find this information to be of use and please do not hesitate to call my office if you have any questions.
Sincerely,